Earth Systems Journey as a Teaching Artist Workshop
Earth Systems Journey, which is described throughout this website, has been implemented in a number of ways. One way it can be experienced is through a teaching artist workshop. The teaching artist workshop format increases the focus on art making and expands the time available for participants to engage in learning techniques and creating artwork to reflect on their journey experiences and ideas. But the art form of the journey itself is also co-created by the participants, as they help make props, participate in acting out ceremonies, and engage with land, water, and resources as well as members of the community they meet along their travels. The following video, from the very first Earth Systems Journey with pre-schoolers, gives a glimpse into day 7 of a two week workshop. At about 2:15, you see the children singing and  dancing to the journey song: Downstream/Upstream.
Here is a list of the types of art participation and art-making involved in an Earth Systems Journey in a teaching artist workshop format. It outlines a week long experience focusing on water, but the format could be different lengths and the resource could be materials, waste, energy or other flows through the learning environment.
Art Works Experienced and Created in an Earth Systems Journey Teaching Artist Workshop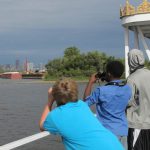 The Journey Itself and its "artifacts" or props
The Earth Systems Journey experience itself is participatory public art, designed as a dramatic composition, with participants and partners acting out the journey, even though they are being themselves. This form is also called social practice art, where art intervenes in or enhances social interactions. In this case the interactions are between groups of people but also between participants and the land and place. Participants join in the journey to follow the flow of water. The journey includes poetry, ceremonial activities to heighten appreciation of water transitions throughout the week, a creative stewardship activity, and finally participants share their reflections (images and words) on the journey in a group GIS Story map that is shared publicly. The finale of the camp will be a presentation and/or performance for the public. The participants share their work facilitated by the lead artist (also called a "journey guide"), and partners who have helped interpret place (also called "place guides").
Example Artifacts from the Journey: These are also artworks in themselves and the teaching artist workshop format allows more time to be spent on these elements.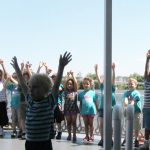 Journey poem/song: This is begun by the journey guide(lead artist) to set the stage and defines the "call to adventure." It is recite and completed throughout the journey by participants who write verses or other components. This is often set to music and can be accompanied by a community musician who is a collaborator.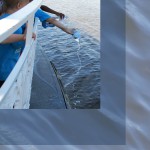 Ceremonial water activities: these can be quite simple. For example small containers to collect, carry, and release water that enhance the identification with the water along the way.
Travel / Sketch Journals and notes, This allows for personal reflection for the participants, a place to sketch, water color, collect a blade of grass, and work on poetry.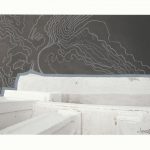 Photographs, Altered Photographs: The photographs by participants along the way are another form of personal reflection. Back at the studio, the photographs can be modified with mixed media to further reflect on the scene that was experienced.
Group GIS Story Map, participants will collaborate on what elements to include in the group GIS Story Map. Sketch book images, photographs, and art maps, as well as multimedia sound, and video are possible. This will be the most publicly shared part of the project and tells the story of the journey and each participants experience for unlimited online audiences.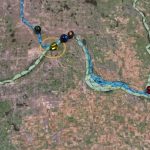 Art Maps: Reflective art map making helps stitch the pieces of the journey experience on the land together and express relationships across space. For example, one form of art map making is photo-collage/mixed media integrated with GIS. This is a tactile material way for participants to use their sketch books, photographs, paint and other media to create an art map to scale, inspired by GIS map data, for example contours. The art maps can be scanned in and recombined with GIS, for a hand-made-digital composite story map.

Stewardship: Each Earth Systems Journey includes stewardship related to the topics studied. This can be planting native grasses to help protect water quality and provide habitat, or it could be a trash pick-up, or other activity that makes a difference. This can also be another opportunity for art-making, for example if a temporary trash mandala is created out of what is found, or if native plantings are within a designed garden place.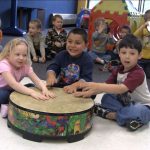 Community Celebration and Presentation: In an Earth Systems Journey, the experience concludes with a public sharing of the story and what was made. This can be in the form of an art exhibit, a performance, presentation, or all three. This step reinforces that participants are community leaders too, educating their parents and the public about the story of water and how they can help protect it. This public performance is also part of the art experience, as participants learn to present their work, or help create an entertaining performance.
Outcomes from an Earth Systems Journey Teaching Artist Workshop
Each application of the model is unique, adapted to place, people, and program and will therefore have some unique goals and outcomes. However, most Earth Systems Journey workshops have these outcomes in common:
Participants gain a sense of confidence in art making and get exposed to new forms of art making, and use of multiple media to create a larger cohesive art experience.
Participants learn about water in their region, get an experiential sense of how interconnected their lives are with water, see how continuous water is across human-engineered and natural water systems, and practice how art can help reveal those interconnections. (And they take those lessons home to families.)
Participants gain experience practicing stewardship skills, and contributing to community within an overall art experience of place.
Participants, and the community gain appreciation for the role the arts can play across sectors of community concern, such as environmental issues.
Host organizations make or strengthen connections with community partners collaborating on the project.
Leaders and participants gain experience using GIS Story Maps for reflection, art, and communication.
Lead and collaborating artists learn from community and experience.